Two Ezterhazy Karoly University Students Will Study at ISI Yogyakarta
Two Ezterhazy Karoly University (Hungary) students, will study at ISI Yogyakarta for one semester. Fanni Johanna and Anjela Petra will study at the Faculty of Visual Arts and ISI Yogyakarta Postgraduate Program during the even semester of the 2017/2018 academic year. Such activities are carried out routinely by ISI Yogyakarta and Ezterhazy Karoly University. Previously, on September to December 2017, ISI Yogyakarta had sent some students to study at Ezterhazy Karoly University, Hungary.
On Monday, 12th February 2018, the two students were received by the Chair of the International Affairs Unit, Deputy Director of the Postgraduate Program, Dean of Faculty of Visual Art, and Chair of the ISI Yogyakarta Fine Arts Study Program. In the same day, both of the students also dealed with the registration. Therefore, they could immediately attend the lecture activities at ISI Yogyakarta.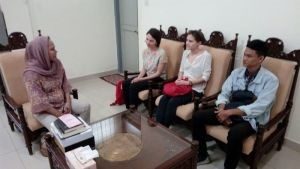 Ezterhazy Karoly University students were received by the Dean of Faculty of the Visual Arts ISI Yogyakarta
Ezterhazy Karoly University students were received by the Chair of Fine Arts Study Program ISI Yogyakarta